Temperatures Boundry Setting

The air conditioner will operate under a temperature boundary which is can be set using setpoint/setback temperature parameters and the temperature is based on actual room temperature.
Cooling Load Sharing

AirPixel is capable to operate in groups. Load sharing can be done for up to 20 unit air conditioner at one time.
Hardware and Communication Failure System Detection

AirPixel will instruct air conditioner to running full speed if actual room temperature continues increase toward high temperature set point.

LCD Display
All the parameters and setting will be display via LCD screen such as room temperature, humidity temperature, alarms, setting temperature and others. The LCD display is placed at AC Main Card.
INSTALLATION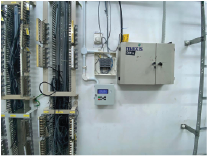 - AirPixel installation is retrofitted to an existing air conditioner of various sizes/types.
- AirPixel consists of AC Main Card and AC Card. AC main card is placed at the desired area to capture actual room temperature and AC Card is placed close to the existing air conditioner.
- AirCPixel can be fit on single/ three phase wiring air conditioner.
Technical Specification